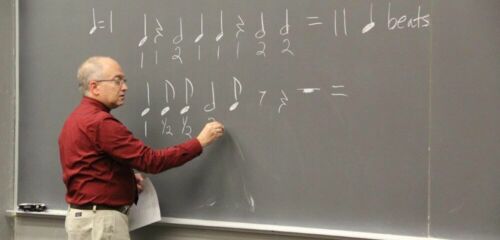 The principal objective of the Theories and Histories concentration is to provide music students with a common foundation in music theory, history and literature. This concentration prepares students to be well-rounded practical musicians who are able to apply skills and knowledge to performance, composition, teaching, or research. Music theory is a highly interdisciplinary field, linking diverse academic areas including history, composition, performance practice, technology, and philosophy. Emphasis is toward the mastery of the tonal system through acquiring proficiency with various styles, musicianship skills, and the ability to analyze tonal music. Music history provides students with a comprehensive study of all periods of music, paying special regard to the development of musical form and style.
Theory and history classes present a broad cultural perspective, embracing the repertory of Western music from the Middle Ages to the present – as well as American music, popular music, jazz, and an introduction to ethnomusicology and world music. Students are introduced to a variety of research methods and scholarly approaches, including source studies, stylistic development, and critical writing.
As scholarship and performance are not mutually exclusive, all music majors are required to declare and study a major instrument, and perform two jury reviews every year. Students are encouraged to take part in the diverse performance opportunities available to enrich their understanding of the music they are studying.
For information about the Theories and Histories concentration, contact Prof. Joseph C. Schiavo.
B.A. 
Degree requirements
Music Major Requirements (minimum 48 credits)
Upon admittance to the school, incoming freshman and transfer student music majors should contact the music program coordinator for information on placement exam and audition dates:  Prof. Joseph C. Schiavo or call (856) 225-6539.
Students majoring in music must earn a grade of C or better in the following courses:
MUSIC CORE REQUIREMENTS (23 CREDITS)
50:700:161-162 Musicianship I, II (2, 2)

50:700:205-206  Musicianship III, IV (2, 2)

50:700:225-226  Music Theory I, II (3, 3)

50:700:271 Music Technology I (3)

50:700:291,292 History of Music I, II (3, 3)
All students in the Theories and Histories and Music and Technology pathways will complete and publicly present a capstone project in their final year. This project will be under the supervision of a full-time faculty member with expertise in the student's area of interest.
Performance (10 credits)
A minimum of four semesters of applied music on primary instrument or voice (1,1,1,1)
Students must pass the keyboard competency examination, normally by the end of junior year. If students do not possess the required keyboard skills, they must take applied piano until the proficiency requirement is satisfied.
Music majors enrolled in any applied music instruction (including remedial piano) are required to meet and demonstrate clearly regulated student outcomes through juried examination each semester. Should a student not meet the standards set by the department, the level must be repeated.
One of the following:
50:701:140 Rutgers Choir (1) or

50:701:347 Madrigal Ensemble (1) or

50:701:348 Performance Ensemble (1) or

50:701:321 Jazz Ensemble I (1)
THEORIES AND HISTORIES CONCENTRATION (15 CREDITS)
Required (6 credits)
50:700: 293 Topics in Music History III (3)
-or-
50:700:325 Music Theory III (3)

50:700:494 Capstone project (3)
Suggested Electives (min. 9 credits)
50:700: 294 Topics in Music History IV (3)

50:700:305 Gender in Music (3)

50:700:321 Counterpoint (3)

50:700:337 History of Opera (3)

50:700:373 Introduction to Composition (3)

50:700:227Jazz Theory (3)*

50:700:313 History of Jazz Singers (3)*

50:700:412 History of Jazz (3)

50:700:486 Composition and Technology Seminar (3)**

50:700:490 Music Internship (BA)

50:700:495-496 Honors in Music I,II (3,3)

50:700:499 Individual Study (3)

50:700:392 Songwriting

 (3)
Music majors with a concentration in Theories and Histories are required to take a comprehensive examination in music history and theory during their senior year. Read more about the requirement.