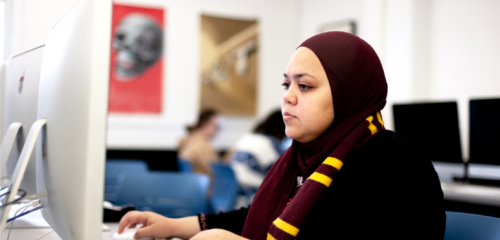 An intensive Bachelors of Arts (BA) degree program in graphic design is heavily rooted in a Liberal arts context—reading, writing and critical thinking. The Graphic Design program at Rutgers-Camden focuses on interdisciplinary thinking and research through personalized interaction with faculty that are active researchers and practitioners. The program fosters and challenges technical and conceptual proficiency while developing an awareness of one's individual perspective and process through a constantly evolving and experimental curriculum.  The goal is for students to become aware of their own creative methods and perspectives in order to extended them beyond the boundaries of traditional graphic design roles. Rutgers-Camden is one of the three campuses of Rutgers University, residing on the Delaware River across from Philadelphia.
Many of our graduates have established successful careers in print design, advertising, interactive and web design and product design — working in traditional graphic design studios to design think tanks. In addition, our student works have been awarded and recognized by national and international organizations including AIGA, Graphis, GDUSA, UCDA, CMYK, National DSVC Student Show, and Applied Art Magazines.
For information about the Graphic Design concentration, contact Prof. Allan Espiritu.
B.A. 
degree Requirements
Core Curriculum (27 credits)
Required for all Art Program concentrations
50:080:102 Visual Fundamentals (3)

50:080:103 Sculpture Foundations (3)

50:080:213 Graphic Design I (3)

50:080:221 Drawing I (3)

50:080:351 Painting I (3)

50:080:279 Computer Animation (3)

50:080:264 Digital Photography (3)

50:082:102 Introduction to Art History II (3)

50:082:354 Contemporary Art (3) or other upper lever Art History course
GRaphic Design Concentration (21 credits)
Required:
50:080:332 Graphic Design Studio II (3)

50:080:437 Graphic Design Studio III (3)

50:080:438 Graphic Design Studio IV (3)

50:080:333 Typography (3)

50:080:439 Special Topics in GD or Other GD Elective

50:080:XXX Advance Studio Course (3)

50:080:440 Senior Capstone in GD (3)

Recommended:

50:080:281 Introduction to Video and Film (3)

50:080:345 Computer Multimedia (3)

50:080:395 Artist in Society (3)

50:080:491 Electronic Arts Internship

50:082:101 Introduction to Art History I (3)
STUDENT GALLERY