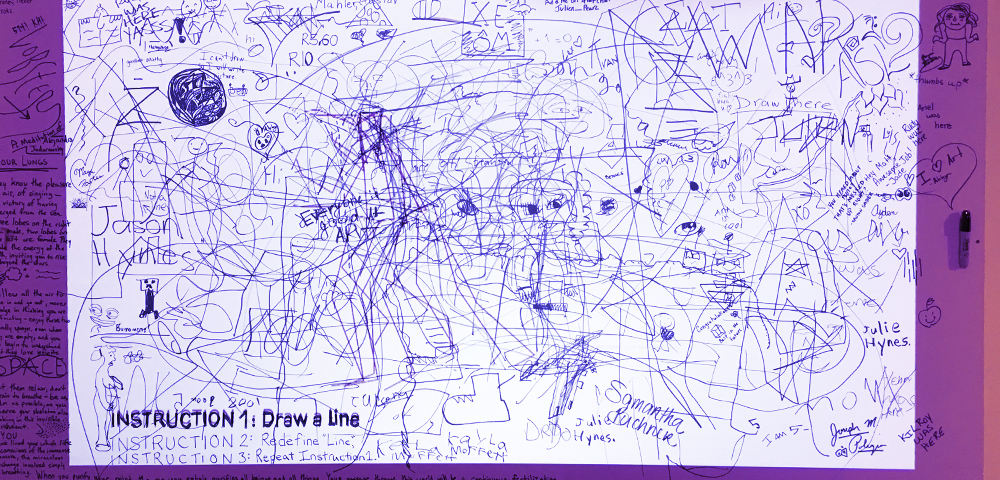 Intermedia and Electronic Arts (IEA) is a new, emerging area of study within art and design that explores new forms of creative output brought about by new technologies. IEA builds on the historical philosophy of Intermedia, which combines different models of thought by bringing together seemingly disparate disciplines of arts, science, and technology.
Students enrolled in the concentration focus on conceptual understanding of the arts, while using state of the art technology to work on their projects. Technical components include programming, interactive media, graphic arts, sound, and video. IEA encourages project driven collaborations with students and faculty across different disciplines, both within and outside of the Department of Fine Arts.
For information about the Intermedia and Electronic Arts concentration, contact Prof. Elizabeth Demaray. 
B.A. 
Degree Requirements
Core Curriculum (27 credits)
Required for all Art Program concentrations
50:080:102 Visual Fundamentals (3)

50:080:103 Sculpture Foundations (3)

50:080:213 Graphic Design I (3)

50:080:221 Drawing I (3)

50:080:351 Painting I (3)

50:080:279 Computer Animation (3)

50:080:264 Digital Photography (3)

50:082:102 Introduction to Art History II (3)

50:082:354 Contemporary Art (3) or other upper lever Art History course
Intermedia & Electronic Arts Concentration (21 credits)
Required:
50:080:214 Interactive Art I (3)

50:080:224 New Media Art (3) or 50:080:482 Singularity Art (3)

50:080:126 Conceptual Art (3)

50:080:478 Intermedia Capstone (3)
Choose three additional courses from the following options (this list can be expanded in consultation with your faculty advisor):
50:965:125 Introduction to Video and Film (3)

50:700:129 Biodesign I (3)

50:080:314 Interactive Art II (3)

50:080:126 Conceptual Art II (3)

50:700:301 Sound Thinking (3)

50:700:302 Sound and Image (3)

50:080:300 Art and Urban Sustainability I (3)

50:080:349 Biodesign II (3)

50:080:388 3D Modeling and Printing (3)

50:700:391 Music and Computers (3)

50:080:400 Art and Urban Sustainability II (3)

50:700:449 Audio Postproduction (3)

50:209:302 Special Topics in Digital Studies (3)

50:080:391 Independent Study in Intermedia (3)
Students in the intermedia and electronic arts (IEA) concentration are required to be mentored by two faculty members from two different disciplines through their capstone project.