Nationally and internationally acclaimed visual artists and art collectives visit our campus to present lectures about their work and professional practices. Visiting artists and designers have a chance to meet with the students and larger Rutgers University–Camden community to continue the dialogue about perspectives on contemporary art. The main theme of our FALL 2023 lecture series is Constructed Landscapes.
All lectures are free and open to the public. These lectures will be held from 12:45 pm to 1:45 pm (free period) in the Fine Arts Building, Room 110.
Marc Handelman – Thursday, October 26
Janet Biggs – Thursday, November 9
Paul Anthony Smith –Thursday, November 30
Fall 2023 ARTISTS:
Marc Handelman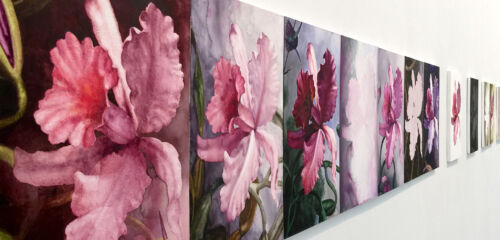 Marc Handelman is an artist living in Brooklyn, New York. His work has been featured in venues including PS1 MoMA, The Studio Museum in Harlem, Artists Space, The Orlando Museum of Art, The Royal Academy of Art in London, The Royal Swedish Academy of Fine Arts in Stockholm, Grafikens Hus, The Nerman Museum of Contemporary Art, The American Academy of Arts and Letters, The Portland Museum of Contemporary Art, The Rubin Museum, The Matsumoto City Museum of Art, and the Storefront for Art and Architecture, among others.   
He is represented by Sikkema Jenkins gallery in New York. Handelman has taught in the MFA Programs at Bard, Brooklyn College, Columbia University, and Yale University. He is currently an Associate Professor of Painting at The Mason Gross School of the Arts at Rutgers University where he serves as Chair of the Department of Art & Design.  
Janet Biggs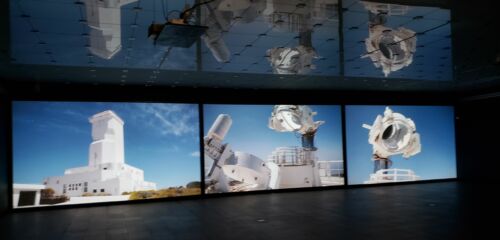 Janet Biggs is a research-based, interdisciplinary artist known for immersive work in video, film and performance. Biggs navigates territory between art, science and technology, focusing on individuals in extreme landscapes or situations. She has filmed inside active volcanos and in both polar regions. Biggs has worked with institutions from NOAA to NASA, collaborating with neuroscientists, astrophysicists and a robot named Shimon.
Biggs has had solo exhibitions and screenings at the Sarasota Art Museum, Spencer Museum of Art, Neuberger Museum of Art; SCAD Museum of Art; Blaffer Art Museum; Musee d'art contemporain de Montréal; and the Hirshhorn Museum and Sculpture Garden, among others.
Her work and research have been supported by the John Simon Guggenheim Foundation, the New York State Council on the Arts, and the National Endowment for the Arts. Reviews of her work have appeared in the New York Times, New Yorker, ArtForum, ARTNews, and Art in America.
Paul Anthony Smith

Paul Anthony Smith creates paintings and picotage on pigment prints that explore the artist's autobiography, as well as issues of identity within the African diaspora. Referencing both W.E.B. Du Bois' concept of double consciousness and Franz Fanon's theory of diasporic cultural confusions caused by colonialism, Smith alludes to fences, borders, and barriers to conceal and alter his subjects and landscapes. Smith's practice celebrates the rich and complex histories of the post-colonial Caribbean and its people. Memory, migration and home are central to Smith's work, which probes questions of hybrid identities between worlds old and new. Smith's layered picotage is often patterned in the style of Caribbean breeze block fences and modernist architectural elements that function as veils, meant both to obscure and to protect Smith's subjects from external gaze. While photography typically functions as a way in which to reveal and share information, Smith's picotage has a concealing and purposefully perplexing effect.  
Forcing these nuanced diasporic histories into a singular picture plane, Smith encourages layers of unease within these outwardly jovial portraits. Picotage serves as an access point as Smith interrogates which elements of identity are allowed to pass through the complexities of borders and migration. 
---
PAST VISITING ARTISTS
Spring 2023 ARTISTS:
Kris Rivel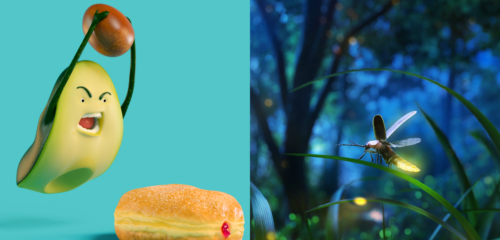 Kris Rivel is the Creative Director of Motion and Animation at Aliceblue, a digital production and design studio based out of Richmond Virginia. He graduated from Rutgers University, Camden in 2000 with a BFA with an emphasis in computer animation. Kris has worked for over twenty years in the fast-paced and time-sensitive commercial and advertising industry producing animation and video projects for television, web, social media, trade shows, direct marketing, and education. Some of his award-winning projects include work for brands such as Pepsi, GE, Frito-Lay, Tylenol, Sherwin Williams, and numerous agencies, pharmaceutical companies, directors, and photographers. 
 
Outside of his creative direction duties, Kris is considered a 3D/CG Generalist, or someone with a wide range of skills within the visual effects and postproduction industry. These skills include many aspects of 3D/CG such as modeling, texturing, animation, simulation, lighting, and rendering. He is also experienced in post-production processes such as compositing, editing, and color correction. Often, he can be found on-set during complex video shoots coordinating with the director and crew on complicated VFX projects. 
Joshua Mosley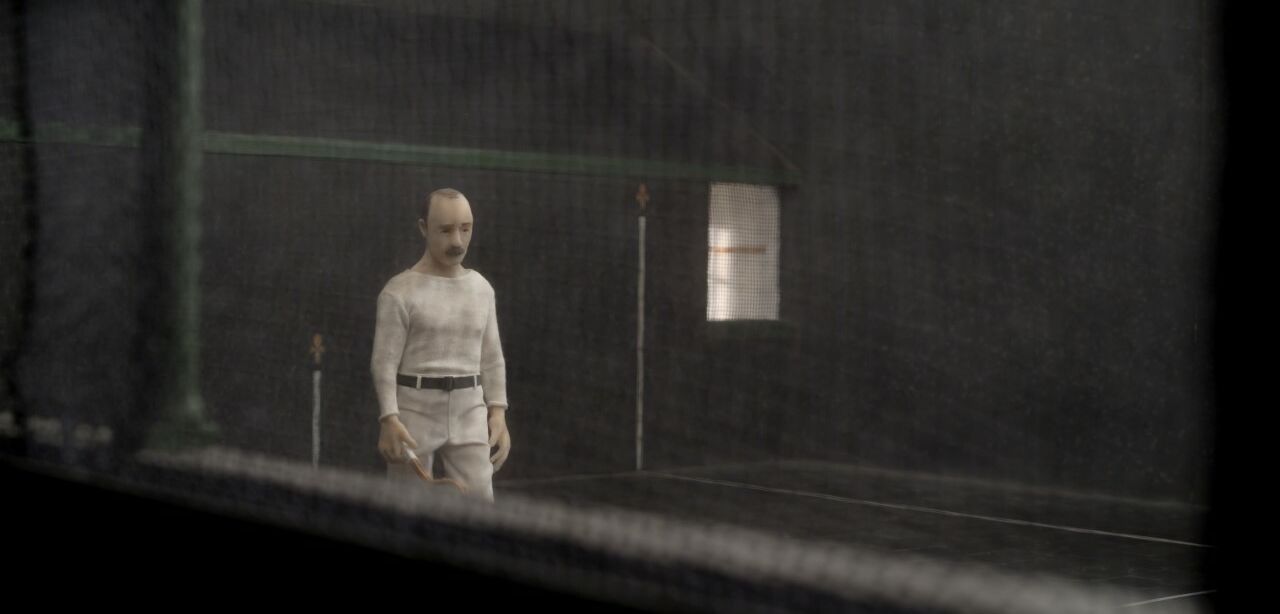 Joshua Mosley is Professor of Fine Arts in the Weitzman School of Design at the University of Pennsylvania. He received his M.F.A. and B.F.A. from The School of the Art Institute of Chicago. Joshua is a recipient of fellowships including the Joseph H. Hazen Rome Prize, the Pew Fellowship in the Arts, and the Louis Comfort Tiffany Foundation Award. His work has exhibited and screened at the 2014 Whitney Biennial, the 2007 Venice Biennale, the Wexner Center for the Arts, the Museum of Modern Art, NY, the Modern Art Museum of Fort Worth, the Museum für Gegenwartskunst in Basel, Switzerland, the Art Institute of Chicago, the Reina Sofia in Madrid, the Philadelphia Museum of Art, the Indianapolis Museum of Art, the Fabric Workshop and Museum, the Institute of Contemporary Art Philadelphia, and the Museum of Contemporary Art San Diego. 
FALL 2022 ARTISTS:
Partner and Partners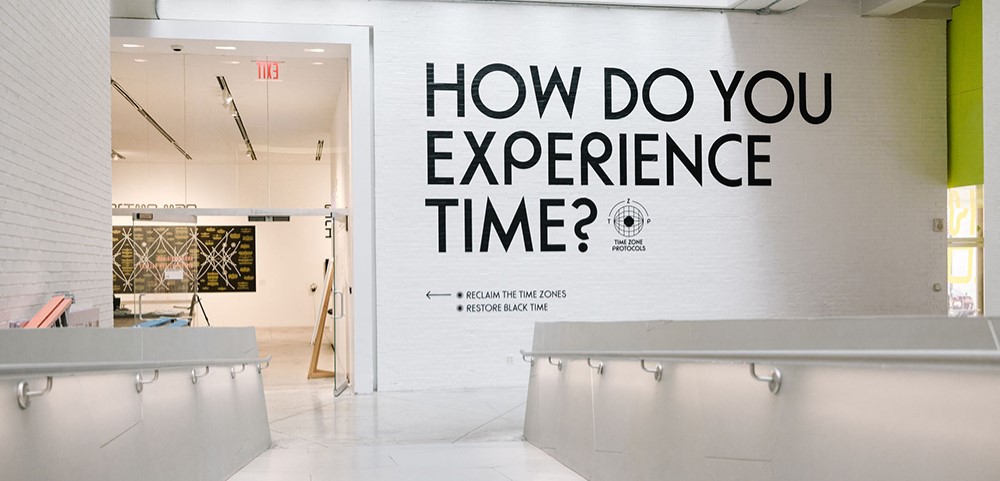 Partner & Partners is a worker-owned design practice focusing on web, exhibition, print, and identity work with clients and collaborators across a variety of fields and disciplines. Formed in 2013, Partner & Partners consciously seeks projects that promote social and economic justice, and prioritizes groups with actionable visions for a just future.  
Partner & Partners have worked with numerous groups, both large and small, and feel that this experience has enabled a perspective that artfully blends user experience, technology, and design in the creation of custom exhibitions, websites, and identities. 
Adebunmi Gbadebo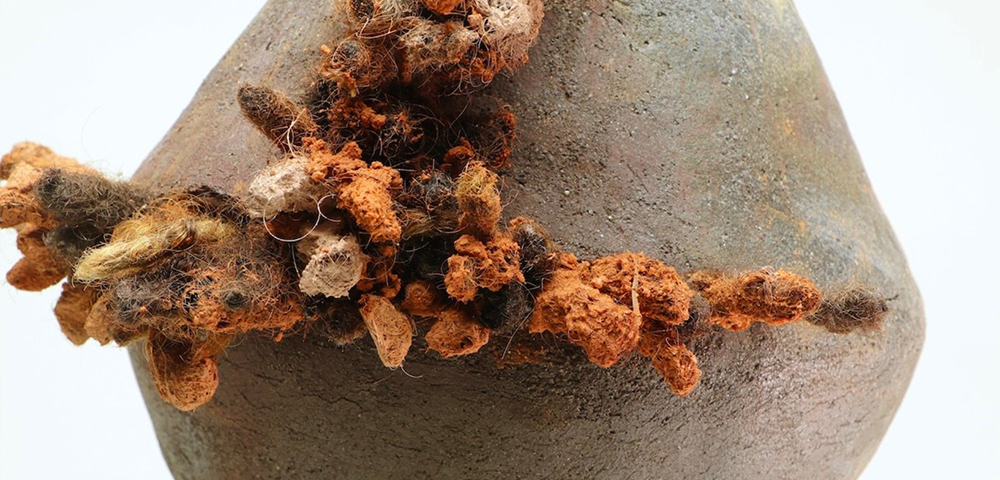 Adebunmi is a multimedia artist who uses culturally imbued materials to investigate the tensions between land and memory. Born in New Jersey and based in Newark and Philadelphia, Adebunmi earned her BFA at the School of Visual Arts, NY. 
Gbadebo's work is included in the permanent collection at the Smithsonian National Museum of African Art, Smithsonian National Museum of African American History and Culture, the Minneapolis Institute of Art, South Carolina State Museum, and the Newark Museum of Art amongst others. Gbadebo's work has been presented in exhibitions in the United States, Asia, and Europe, and will be included in the upcoming exhibition at the Metropolitan Museum of Art, Hear Me Now: The Black Potters of Old Edgefield, SC. She has been written about in notable publications, some including Hyperallergic, Hypebeast, Papermaking Magazine, and the American Craft magazine. She has been broadcasted on BBC Newsday and has given talks at the Museum of the African Diaspora and the Newark Museum.  
Hilma's Ghost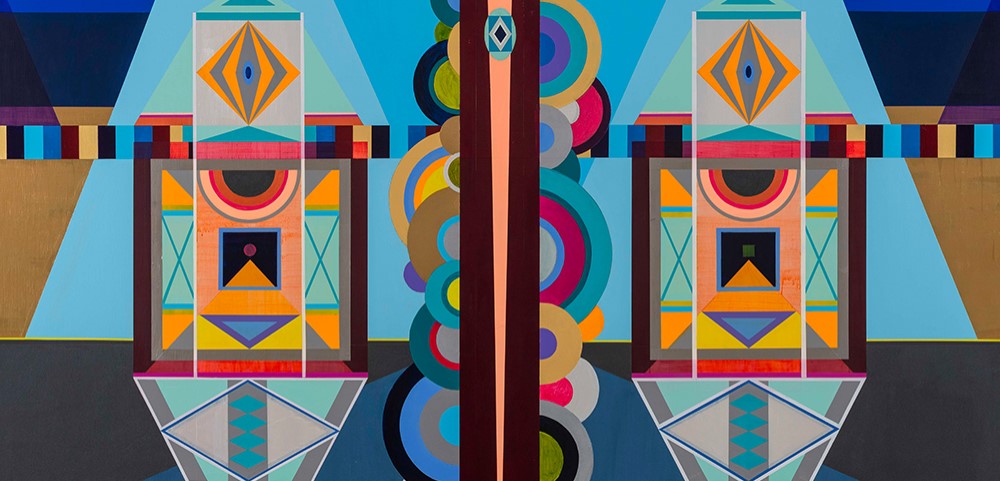 Hilma's Ghost, a feminist artist collective, was co-founded by Brooklyn-based artists Sharmistha Ray (they/them) and Dannielle Tegeder (she/her) two years ago during the height of the pandemic. Their namesake Hilma af Klint's groundbreaking exhibition at the Guggenheim in 2018 served as a reckoning for art history's blind spots, especially for women artists considered too 'mystical' for the conservative art world.  
Hilma's Ghost believes that western heteropatriarchal societies' false binary between spirituality and science has served to overlook women artists whose explorations of ancient and pre-modern knowledge systems is a source of personal strength and aesthetic innovation. The collective acts as a restorative project that uplifts the voices of women, trans, and nonbinary artists using abstraction and mysticism in their work and makes them visible. 
FALL 2021 ARTISTS:
Catharine Czudej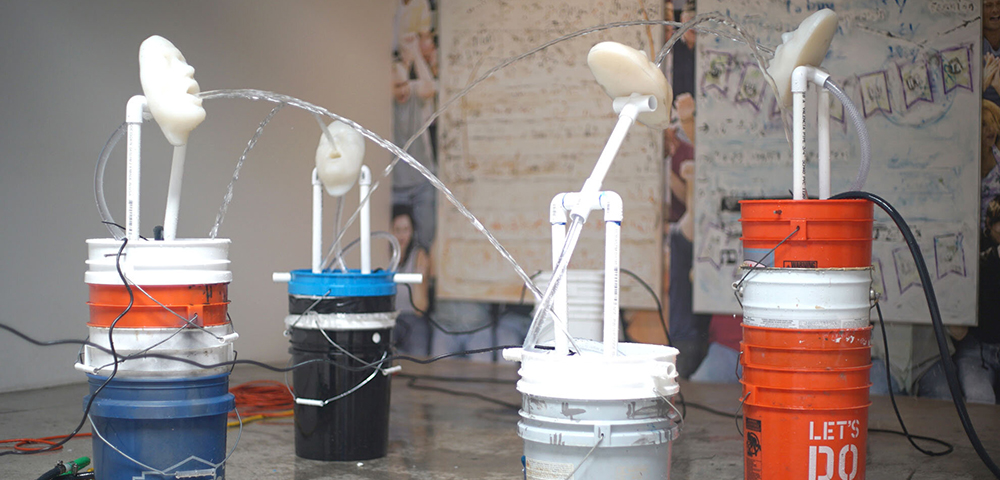 Catharine Czudej's work involves the study and disfigurement of American metaphysics. By examining the contours of national pastimes, Czudej's work typically denatures some familiar pattern of suburban life. Catharine Czudej (b.1985, Johannesburg) grew up in Milwaukee, Wisconsin and currently lives and works in New York City. She studied at UCLA, Los Angeles and NYU, New York. Previous solo exhibitions include. Hippie Puke, Egan Rosen, New York, USA (2021) Home Owner, Von Ammon co, Washington DC, USA (2020) Imagine All The People, Michael Benevento, Los Angeles, USA (2019) Not Books, Ginerva Gambino, Cologne, Germany (2018); Ball Polisher, Jeffrey Stark, New York, USA (2017); SHHHHHH, Kölnischer Kunstverein, Cologne, Germany (2016); Guess Who's Coming to Dinner, Office Baroque, Brussels, Belgium (2016). Recent group exhibitions include: Frieze Projects, Frieze Art Fair, Los Angeles, curated by Ali Subotnick; (2019); Smile, Halsey McKay, New York, USA  (2019); The Party, Anton Kern Gallery, New York, USA (2018); Pine Barrens, Tanya Bonakdar, New York, USA (2018).
Ilya Fedotov-Fedorov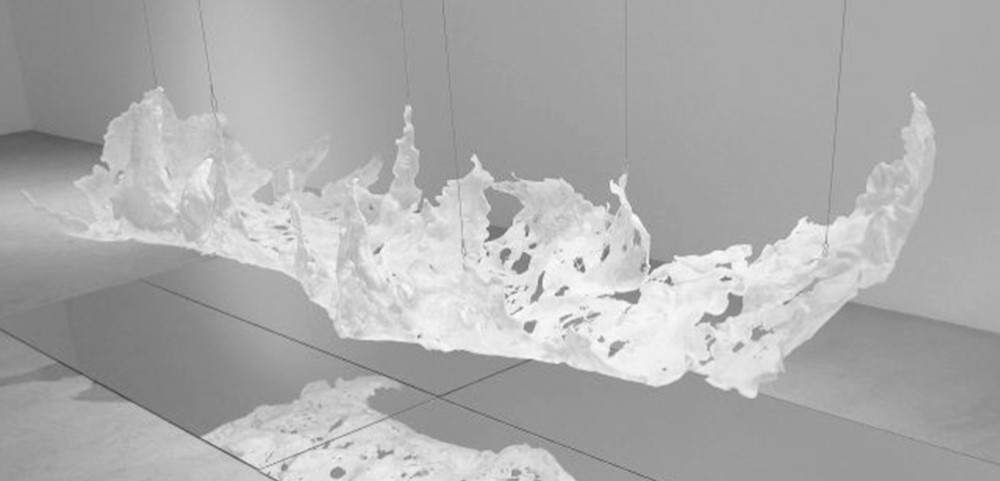 Ilya Fedotov-Fedorov was born in Moscow, where hе studied genetics (bioengineering) and philology. Recently, he started filming himself and observing his body through a "genderless mask character". Fedotov-Fedorov is developing a "creature" asexual character without gender, identity, and biological type. He works with animals and insects to break these boundaries, taking some movements from them and creating choreography pieces based on it while using his own body and professional dancers.
The artist is working with the theme of the «Other,» self-identity, ecology and foreignness in reflecting on the processes of distance production in society as well as in nature, gender, and body. Artist deconstructs human's attitudes to nature by presenting closed ecosystems, as models of power structures, ways of scientific, and museological collection/classification. He uses sculpture, installations, and video as his media.
Tariku Shiferaw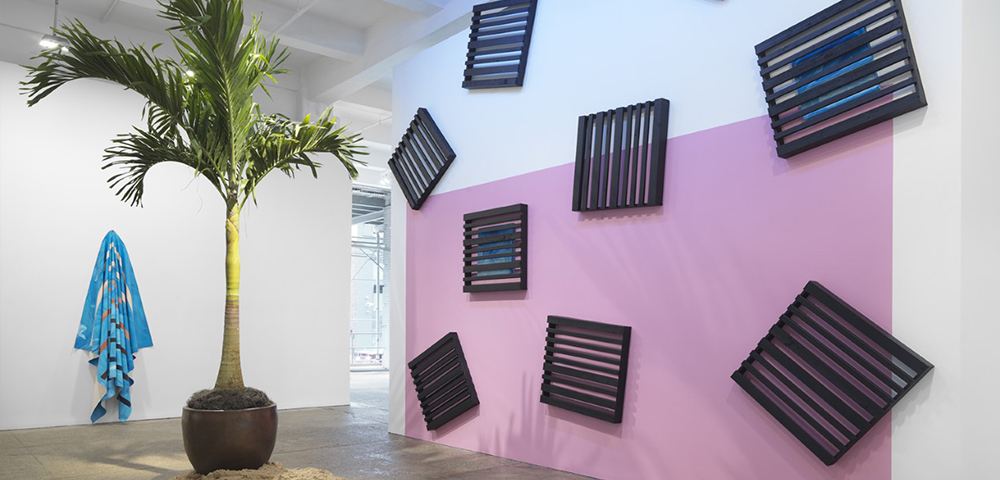 Tariku Shiferaw is a New York based artist who explores mark-making addressing the physical and metaphysical spaces of Painting and social structures. He is currently part a nationally traveling exhibition with the Smithsonian Institution (2019-2022). Shiferaw's most recent exhibitions include It's a love thang, it's a joy thang, his first solo show with Galerie Lelong in New York City (2021) and Unbound, at the Zuckerman Museum of Art (2020). Other museum exhibitions include the 2017 Whitney Biennial, as part of Occupy Museums; A Poet*hical Wager, at the Museum of Contemporary Art Cleveland (2017); and What's Love Got to Do With It?, at The Drawing Center (2019).
Shiferaw was a participant of the Whitney Museum of American Art Independent Study Program (2019), Open Sessions at the Drawing Center (2018-2020), and a current artist in residence at Silver art Projects in New York City.
SPRING 2021 ARTISTS:
Maia Cruz Palileo
Migration and the permeable concept of home are constant themes in Maia Cruz Palileo's paintings. Influenced by the oral history of her family's arrival in the United States from the Philippines, as well as the history between the two countries, Maia infuses these narratives using both memory and imagination.
Palileo has participated in residencies at Lower Manhattan Cultural Council, Skowhegan School of Painting and Sculpture, Lower East Side Print Shop, Millay Colony, and the Joan Mitchell Center. She has received an Art Matters Grant, Joan Mitchell Foundation Grant, Jerome Foundation Travel and Study Program Grant, NYFA Painting Fellowship, Rema Hort Mann Foundation Emerging Artist Grant, among others. Recent exhibitions include All the While I Thought You Had Received This, Monique Meloche Gallery, Chicago; Maia Cruz Palileo, Katzen Museum, Washington, D.C.; The Way Back, Taymour Grahne, London; and Meandering Curves of a Creek, Pioneer Works, Brooklyn. 
Joe Fig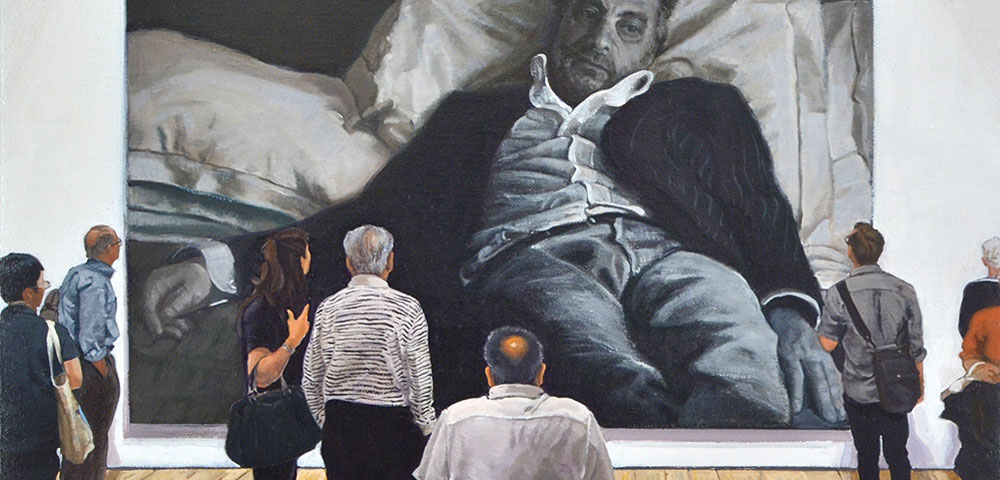 Joe Fig is an artist and author known for work that explores the creative process and the spaces where art is made. His work has been exhibited nationally and internationally with over thirty solo and fifty group exhibitions. He is the author of Inside the Painter's Studio and Inside the Artist's Studio (Princeton Architectural Press), which shares an intimate view inside the studios of todays leading artists, offering insight into the sometimes puzzling contemporary art world.
His work can be found in numerous museums and leading private collections including the Parrish Art Museum, Norton Museum of Art, New Museum and the Toledo Museum of Art. His work has been featured in The New York Times, Artforum, Art in America, ArtNews and Modern Painters as well as several international magazines. Joe has been a Guest Lecturer and Visiting Artist at over twenty-five Institutions and is the Department Chair of of both the Fine Arts and Visual Studies programs at Ringling College of Art and Design. Joe earned his BFA and MFA in Fine Arts from the School of Visual Arts, New York. He is represented by Cristin Tierney Gallery in New York where his recent exhibition, Contemplation received reviews by The New Yorker and Whitehot magazine.
AES+F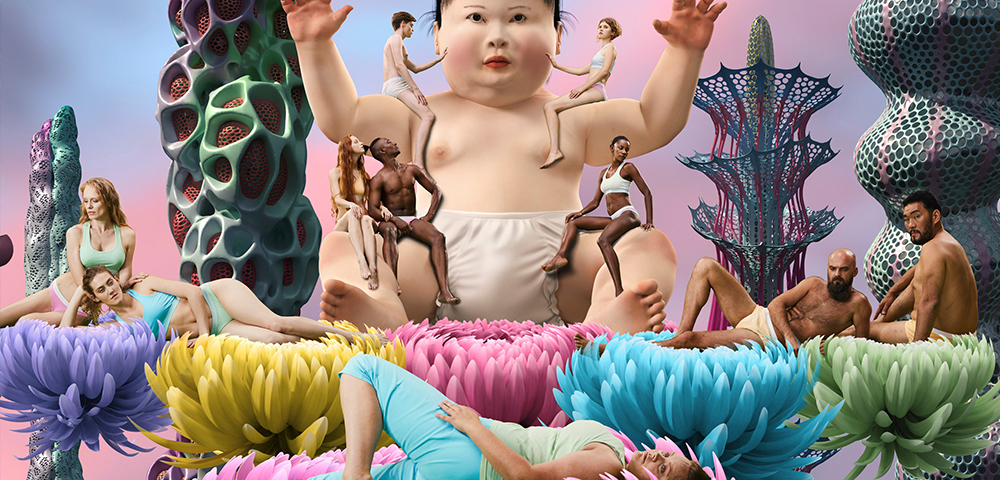 First formed as AES Group in 1987 by Arzamasova, Evzovich, and Svyatsky, the collective became AES+F when Fridkes joined in 1995. AES+F work at the intersection of traditional media, photography, video and digital technologies. They define their practice as a kind of "social psychoanalysis" through which they reveal and explore the values, vices and conflicts of contemporary global culture.
AES+F achieved worldwide critical acclaim in 1999 for their Islamic Project, which depicted various Western postcard city landscapes manipulated to appear colonized by Islam. AES+F cemented their reputation as a contemporary art powerhouse in the Russian Pavilion at the 52nd Biennale di Venezia in 2007 with their provocative Last Riot, the first of their now signature large-scale, multichannel video installations. Following a large survey exhibition in 2007 at The State Russian Museum in St. Petersburg, AES+F's next three large video installations titled The Feast of Trimalchio, Allegoria Sacra, and Inverso Mundus debuted at the 53rd Venice Biennale, 4th Moscow Biennale, and 56th Venice Biennale respectively. The group has had more than 100 solo exhibitions at museums, exhibition spaces, and commercial galleries worldwide. AES+F works have been shown in such institutions as the Tate Britain (London), Garage Museum of Contemporary Art (Moscow), MAXXI and MACRO Future (Rome), Centre Pompidou (Paris), Museo Thyssen-Bornemisza (Madrid), HAM (Helsinki), Moderna Museet (Stockholm), Mori Art Museum (Tokyo), Leeum Samsung Museum of Art (Seoul), National Gallery of Australia (Canberra), Faena Art Center (Buenos Aires), and many others.
SPRING 2020 ARTISTS:
Robert Calafiore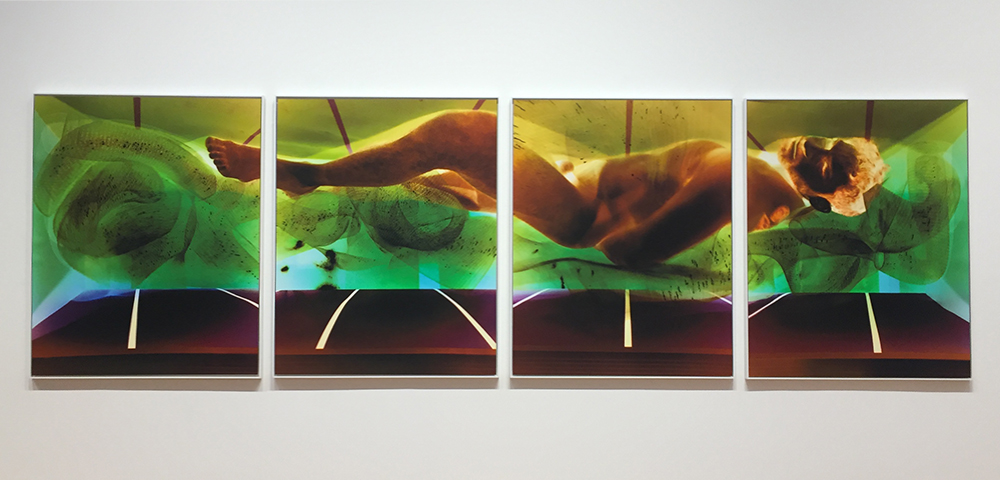 Robert Calafiore was born in New Britain, Connecticut and is a first-generation American. He received his MFA in photography from the State University of New York at Buffalo and his BFA in photography from Hartford Art School. For the last 25 years, Calafiore has focused on his artistic practice while administrating, teaching and broadly promoting the fine arts. Currently, he lives and works in West Hartford, Connecticut, exhibiting his work nationally and internationally. He serves as an Assistant Dean, Director of Admission and Scholarship, and Adjunct Faculty member in the Department of Photography.
He is represented by ClampArt Gallery NYC, Foto Relevance Gallery Houston, and Gallery 1/1 in San Francisco. In 2018 he was awarded a Connecticut Artist Fellowship Grant and named the annual Sight Award winner at Medium Photography San Diego. Most recently he was featured in Ain't Bad Magazine, NYC and TOH Magazine, Milan, Italy, and The Hand Magazine, Kansas City. You can hear a new interview with the artist on "Keep the Channel Open" a podcast series. His latest solo show closed recently in Houston, Texas at Foto Relevance Gallery. His work can be found on his website, robertcalafiore.com and the websites of his galleries, as well as on Artsy.
Caleb Weintraub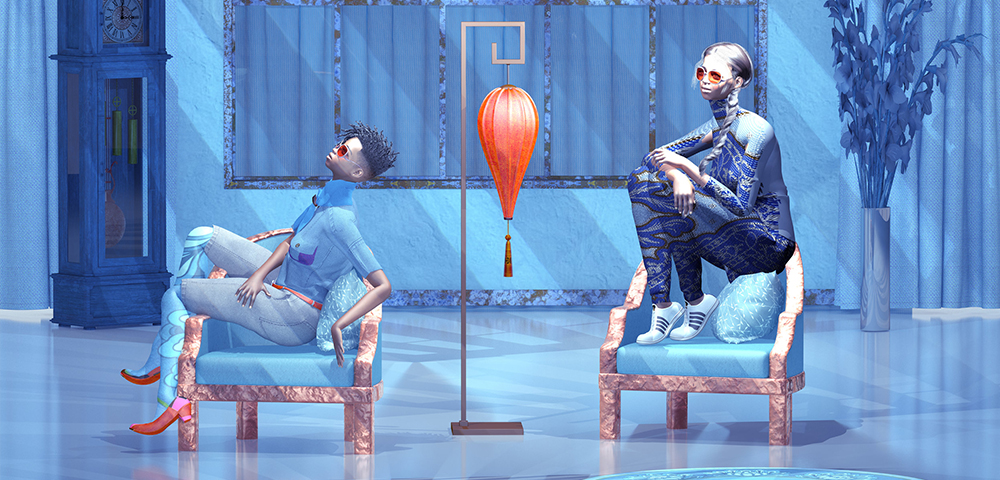 Caleb Weintraub is a University of Pennsylvania MFA trained painter who lives and chairs the painting department at the University of Indiana at Bloomington. A painter, sculptor, video artist, and musician, he works across platforms and has embraced the craft store but only as it suits a body of work at a given time. As an Easterner and a member of a religious minority, his fish out-of-water experience seems to free him to total experimentation as an artist. His previous bodies of work include theatrical life size multi-figure sculpture, craft store supply enhanced oil paintings, and reductive drawing stop-action videos.
A self-taught computer draughtsman and musician, he brings a painter's sensibility to a myriad of mediums. His figures and landscapes are fusions of art historical references, Manga, science fiction, fantasy, and artificial intelligence. Weintraub approaches the computer-generated world as a craft, not code, and then segues back to traditional materials through his unique approach. Relationships between paintings, sculptures, video and music blend into one another. Weintraub also writes and performs electronic music and is planning an event for this exhibition that will incorporate some combination of his methodologies. For his Rutgers-Camden visit, he will bring his digital drawings into his Augmented Reality goggles and "perform" with them to formulate a 2-D painting. Weintraub's seemingly endless curiosity keeps his practice fresh and fascinating.  
FALL 2019 ARTISTS:
Clint Jukkala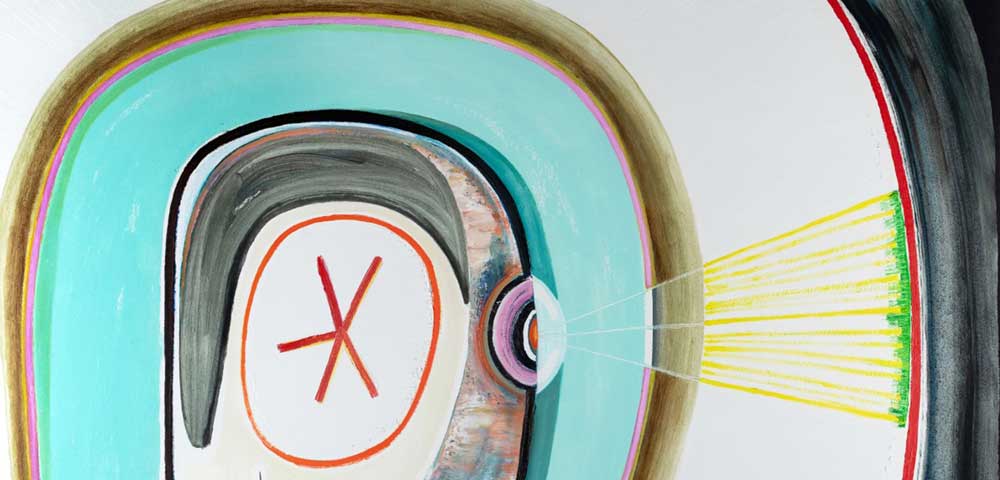 Clint Jukkala received his MFA from the Yale University School of Art and his BFA from the University of Washington in Seattle.  He has had solo exhibitions atBravin Lee Gallery in New York, Fred Giampietro Gallery in New Haven, and Finlandia University in Hancock, MI.  Group exhibitions include Feature Inc. and Edward Thorp galleries in New York, Steven Zevitas gallery in Boston, the deCordova Museum and Sculpture Park in Lincoln, MA, and Pentimenti Gallery in Philadelphia.  
His work has been reviewed in the Brooklyn Rail, Two Coats of Paint and Art Critical, and he has been awarded residencies at the McDowell Colony and Yaddo.  He has taught at the University of Connecticut, and the Yale School of Art, and is currently Dean at the Pennsylvania Academy of the Fine Arts in Philadelphia.
James Maurelle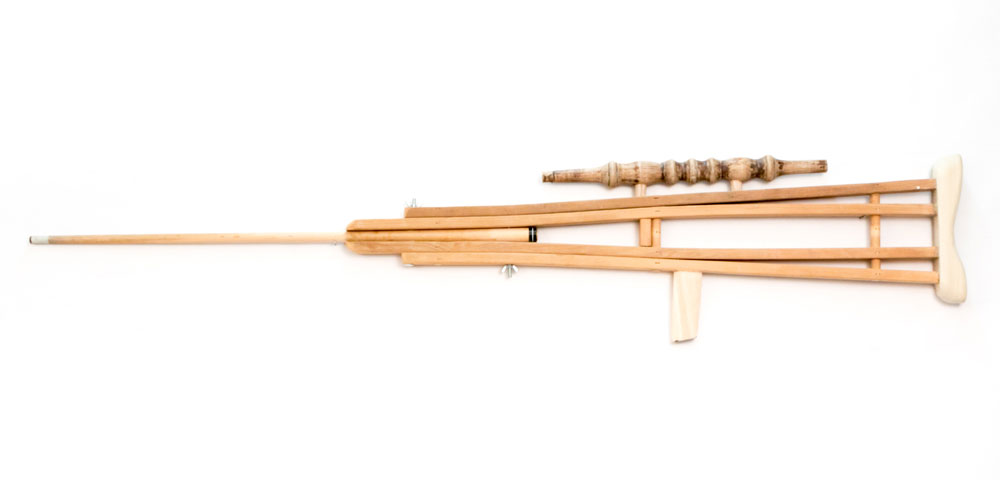 James Maurelle is an interdisciplinary artist, sculpture, video, photography, and sound art are his analog and digital primes. His work investigates the correlation formed between labor and creativity, at the center of this byway is the spirit of his work. Constructing objects and moving images are not unlike creating music compositions, the accompaniment; i.e. tools and materials, are a call and response to dexterity. The rubric to complete any composition is to know ones' instrument(s)/tools; the creative process is based on this reciprocal understanding. Jazz is the primer which propels the work, the tone/feel of every composition is in direct association with the culture. Every object I compose is physical versioning of a historic recording or happening, every tool used is an augmented scale referencing an industrial progression. The materials (wood, metal, plastic, film) are the staff paper, and every committed strike upon these materials forms a note or chord. The fluidity connecting mind, hand, and tools are based on the augmented triad which is the cornerstone of my work ethic. The main objective is to continue creating full-bodied compositions, as long as the staff paper flows, I will inscribe upon it.
His work has shown in solo and group exhibitions in New York, Minneapolis-Saint Paul, Austin, Philadelphia, Cincinnati, and San Francisco. He is a recipient of the Skowhegan School of Painting and Sculpture Fellowship (2015).
Leslie Wayne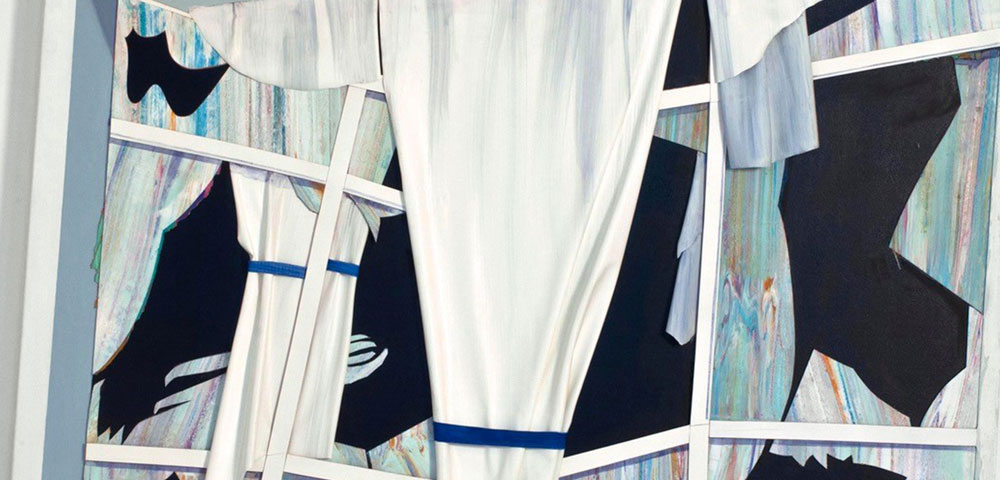 Leslie Wayne was born in 1953 in Germany to American parents and grew up in Southern California. She studied painting at the College of Creative Studies, UC Santa Barbara for two years and received her BFA with Honors in Sculpture from Parsons School of Design in 1984. Her signature abstract paintings are known for their shaped panels and highly dimensional surfaces of paint. Wayne has received grants and awards from the New York Foundation for the Arts (2018, 2006), John Simon Guggenheim Foundation (2017); the Joan Mitchell Foundation (2012); and the Pollock-Krasner Foundation (1985). Her 2016 MTA Arts and Design commission for the Bay Parkway station on the F line in Brooklyn opened to the public in 2018.
She has exhibited widely throughout the United States and abroad and her work is in the public collections of the Birmingham Museum of Art, AL; la Coleccion Jumex, Mexico City; Collezione Maramotti, Reggio Emilia, Italy; the Corcoran Gallery of Art, Washington DC; the Cooper Hewitt Design Museum Smithsonian Library, NYC; The Miami Museum of Contemporary Art, FL; the Portland Museum of Art, Portland, OR; and the Neuberger Museum of Art, Purchase, NY, among others. Wayne is represented by Jack Shainman Gallery and lives and works in New York City.
Spring 2019 Artists:
Elizabeth Wirija
Elizabeth "Eli" Wirija is a photographer and creative originally born and raised in Jakarta, Indonesia. Currently based in New York. She obtained a BFA from School of Visual Arts in 2016. Her interest in photography was cultivated from observing her father bring film cameras to document on family trips. She strives to continually uplift her people and other marginalized groups to level the playing field since there are certain structures in our current society that readily oppress our being.
Selected clients include Nike, Vice, Atlantic Records, Microsoft, ASOS, Make Up For Ever and Barney's New York. Publications include The FADER, Billboard, British Vogue, Refinery29, Milk, Fast Company, INC, Paper, Nylon.
KT Duffy
KT Duffy is a new media artist and educator from Chicago, IL. They received their MFA in Interdisciplinary Art from the Maryland Institute College of Art in 2014. Their work has most recently been shown in a two-person exhibition at the South Bend Museum of Art, a solo exhibition corresponding with their residency as PIXELFACE (collaboration with Ali Seradge) at LoRez Brewery in Chicago, and a solo show at Terrault Gallery in Baltimore, MD. They are currently an Assistant Professor of Art in Art and Technology at Northeastern Illinois University in Chicago, IL.
Working in the space between the digital and the physical, Duffy conjures entities into existence via code-based processes and digital fabrication. These entities fuse the aesthetics of digital devices with organic and semi-organic forms to speculate on a future modality where no entity is bound to a singular reality, substance, or expression. The visual elements in their work reference a broad spectrum of living/non-living things, from both real and speculative environments. Duffy's work utilizes the limitations present in digital fabrication systems as an opportunity to break out of the normative media ratio or print size, leading to cleverly manufactured facets whose material transforms from constraint to bridge. Duffy's social practice strives to demystify coding and technology for creatives, centering those underrepresented in STEAM fields.
Shaun Leonardo
Shaun Leonardo's multidisciplinary work negotiates societal expectations of manhood, namely definitions surrounding black and brown masculinities, along with its notions of achievement, collective identity, and experience of failure. His performance practice is participatory in nature and invested in a process of embodiment, promoting the political potential of attention and discomfort as a means to disrupt meaning and shift perspective.
Leonardo is a Brooklyn-based artist from Queens, New York City. He received his MFA from the San Francisco Art Institute, is a recipient of support from Creative Capital and Guggenheim Social Practice and was recently profiled in the New York Times. His work has been presented in galleries and institutions, nationally and internationally, and featured at The Guggenheim Museum, the High Line, Recess, and VOLTA NY.
FALL 2018 ARTISTS:
Hilary Doyle

Hilary Doyle is an artist, teacher and curator originally from Worcester, Massachusetts. Doyle's work includes painting, drawing, printmaking and sculpture about gender, class and psychology. She has recently exhibited at spaces such as Monya Rowe Gallery, Field Projects and Erin Cluely Gallery in Texas and has had solo shows at the Active Space and Brown University. Her work has received press coverage in Hyperallergic, Bushwick Daily, and New American Paintings Blog. Doyle is a recent recipient of a residency at MassMoCA (Massachusetts Museum of Contemporary Art) in North Adams, MA.
Doyle is faculty at Rhode Island School of Design and Purchase College where she teaching drawing and painting classes. She received an MFA from Rhode Island School of Design and a BFA from the Massachusetts College of Art and Design. Doyle is also founded NYC Crit Club which she teaches and runs with artist, curator and director Catherine Haggarty. She also curates with Reid Hitt as HR Curating and was co-director of Projekt722 gallery in east Williamsburg for three years. She will also be curating an exhibition with HR curating at Agency Gallery in Dumbo in 2019. She lives and works in Greenpoint, Brooklyn.
Synoptic Office: Caspar Lam and YuJune Park

Synoptic Office is a multidisciplinary design studio operating in the space between design, technology and education. The studio's work has been exhibited internationally and recognized by Fast Company Design, iDn, Neshan, Etapes, and It's Nice That. The studio was founded by Caspar Lam and YuJune Park, both Assistant Professors of Communication Design at Parsons. YuJune is currently the program's Associate Director and served as Director from 2014–2017. Synoptic Office was selected to participate in BIO23, the 23rd Biennial of Design at the Museum of Architecture and Design in Ljubljana, Slovenia and has exhibited at the Ningbo Museum of Art in China and the 26th International Biennial of Graphic Design in Brno.
Caspar formerly led design and digital strategy at Artstor, a Mellon-funded non-profit developing digital products related to metadata and publishing for institutions like Harvard, Cornell, and the Philadelphia Museum of Art. He has been a visiting critic at the Hong Kong Design Institute and served as an Adjunct Associate Research Scholar at Columbia's GSAPP. He holds an MFA from Yale and degrees in biology and design from the University of Texas at Austin. Caspar sits on the board of AIGA NY.
YuJune has worked for and collaborated with studios including Base, Graphic Thought Facility, Rockwell Lab, and Pentagram for a variety of clients like MoMA, Milk Studios, the Davis Museum, and the Met. She holds an MFA in Graphic Design from Yale and a BFA in Furniture Design from the Rhode Island School of Design. YuJune sits on the board of the TDC.
Odili Donald Odita

Odili Donald Odita is a Professor in Painting, Drawing & Sculpture at the Tyler School of Art at Temple University; from 2003-2005, Odita was a Visiting Critic at Yale University School of Art. During the 1990's, Odita was a critic for Flash Art International, and a consulting editor and writer for NKA, Journal of Contemporary African Art. Odita's exhibitions include; the 52nd Venice Biennale International Art Exhibition, curated by Robert Storr; DAK'ART 2004, the Dakar Biennale of Contemporary African Art; the Contemporary Art Museum, Houston; the Institute of Contemporary Art, Philadelphia; the Contemporary Art Center, Cincinnati; and the Studio Museum in Harlem.
Group exhibitions include Prospect.4, the US Biennial in New Orleans; Represent: 200 Years of African American Art, The Philadelphia Museum of Art; ARS 11, Kiasma Museum of Contemporary Art, Helsinki; and The Global Africa Project, Museum of Arts and Design, New York. Odita's wall commissions include; the Newark Museum; Nasher Museum of Art, Durham, NC; Philadelphia Mural Arts Program; Ezra Stiles College, Yale University, New Haven; the Savannah College of Art & Design Museum of Art; the US Mission to the UN, NY; and Butler College, Princeton University, NJ.
SPRING 2018 ARTISTS:
Karyn Olivier
Karyn Olivier received her M.F.A. at Cranbrook Academy of Art and her B.A at Dartmouth College. She has exhibited at the Gwangju and Busan Biennials, World Festival of Black Arts and Culture (Dakar, Senegal), The Studio Museum in Harlem, The Whitney Museum of Art, MoMA P.S.1, The Museum of Fine Arts Houston, Contemporary Art Museum Houston, The Mattress Factory (Pittsburgh), SculptureCenter (NY), Drexel University, the University of the Arts, Ulrich Museum of Art, University of Delaware Museum, among others. In 2017 Olivier installed a large-scale commissioned work for Philadelphia's Mural Arts program in historic Vernon Park.  In 2015 Olivier created public works for Creative Time in Central Park and NYC's Percent for Art program.
She is the recipient of the John Simon Guggenheim Memorial Foundation Fellowship, the Joan Mitchell Foundation Award, the New York Foundation for the Arts Award, a Pollock-Krasner Foundation grant, the William H. Johnson Prize, the Louis Comfort Tiffany Foundation Biennial Award, a Creative Capital Foundation grant and a Harpo Foundation grant. Her work has been reviewed in The New York Times, Time Out New York, The Village Voice, Art in America, Flash Art, Mousse, The Washington Post, Nka: Journal of Contemporary African Art, Frieze, the Philadelphia Inquirer, Hyperallergic, among others. Olivier is currently an associate professor and program head of sculpture at Tyler School of Art.
Didier William
Didier William is originally from Port-au-prince, Haiti. He received his BFA in painting from The Maryland Institute College of Art and an MFA in Painting and Printmaking from Yale University School of Art. His work has been exhibited at the Bronx Museum of Art, The Museum of Latin American Art in Long Beach, The Fraenkel Gallery, Frederick and Freiser Gallery, and Gallery Schuster in Berlin.
His work has been reviewed by Hyperallergic, Two Coats of Paint, The New York Times, and Art Critical. He was an artist in residence at the Marie Walsh Sharpe Art Foundation in Brooklyn, NY and has taught at Yale School of Art, Vassar College, Columbia University, and SUNY Purchase. He is currently Associate Professor of Art and the Chair of the MFA Program at the Pennsylvania Academy of Fine Arts in Philadelphia. 
Gail Anderson
Gail Anderson is the creative director of Visual Arts Press at the School of Visual Arts in NYC and a partner at Anderson Newton Design. From 2002 through 2010, she served as Creative Director of Design at SpotCo, a New York City advertising agency that creates artwork for Broadway and institutional theater. From 1987 to early 2002, Anderson worked at Rolling Stone magazine, serving as designer, deputy art director, and finally, as the magazine's senior art director. And early in her career, Gail was a designer at The Boston Globe Sunday Magazine and Vintage Books (Random House). She has taught at SVA for over 25 years and has lectured at conferences, design organizations, and colleges around the world.
Anderson serves on the Citizens' Stamp Advisory Committee for the USPS, and has co-authored over a dozen books on design, typography, and illustration with Steven Heller. She is an AIGA medalist whose work is represented in the Library of Congress, the Milton Glaser Design Archives, the Cooper Hewitt, and the National Museum of African American History and Culture.
Anderson provided an open critique for design students in the Stedman Gallery before talking about her career experiences.
FALL 2017 ARTISTS:
Dona Nelson
Dona Nelson has had twelve solo exhibitions of her paintings, primarily in New York City. In 2000, she had a large survey show of her work at the Weatherspoon Museum of Fine Art in Greensboro, North Carolina. She had solo exhibitions in 2001 and 2003 at the Cheim and Read Gallery in New York City. She currently exhibits her work at the Thomas Erben Gallery in New York City. She has also been featured in many group exhibitions throughout the country, including the 2013 Whitney Biennial. Her paintings have been written about in The New York Times, The New Yorker, Art in America and ArtForum. 
Nelson's paintings are included in numerous public and private collections, including The Metropolitan Museum of Fine Art and The Boston Museum of Fine Art.  In 2011, Nelson was a recipient of a grant from the Foundation for the Community of Artists. In 2012, she was the recipient of an Artist Legacy Foundation Grant. In 2015, she received an Anonymous was a Woman Grant.  She is known for creating installations of two sided paintings which establish an immediate experience in time and space and resist photographic transcription. Nelson has cited Lucio Fontana, Jackson Pollock and Joan Miro as important influences. She has taught for twenty five years at Tyler School of Art, Temple University, Philadelphia. Dona Nelson has also served as a visiting professor in the M.F.A. program at Yale School of Art and in the Bard Summer M.F.A. Program.
Courtney Puckett
Courtney Puckett, born 1979 Winter Park, FL, lives and works in Brooklyn and upstate NY. She holds a BFA from MICA and an MFA from Hunter College and studied at the Center for Art and Culture in Aix-en-Provence, Glasgow School of Art, and University of New Mexico. Puckett has been an Artist-in-Residence at Byrdcliffe Arts Colony in Woodstock, NY, in Lower Manhattan Cultural Council's Workspace Program, and a recipient of a Full Fellowship at the Vermont Studio Center.
Group exhibitions include The Shirley Fiterman Art Center, The Arts Gallery at Westchester County Community College, BRICArts, Wallspace, Noyes Museum of Art, CUAC Utah, Seton Hall University, Long Island University, and Jamaica Center for Art. Puckett is a recipient of a National Endowment for the Arts project grant and was featured on Hyperallergic and NYTimes art blog. She is currently an Adjunct Instructor at Suffolk County Community College, Westchester Community College, and Parsons School of Design.
Alex Da Corte
Alex Da Corte was born in Camden, New Jersey, in 1980. He received a Bachelor of Fine Arts from the University of the Arts, Philadelphia, and a Master of Fine Arts from the Yale University School of Art. His first survey exhibition Free Roses was held at MASS MoCA, North Adams in 2016. Other recent solo exhibitions include Slow Graffiti at The Secession Building in Vienna, Austria, A Man Full Of Trouble at Maccarone Gallery, New York; 50 Wigs at the Herning Museum of Contemporary Art, Herning, Denmark; A Season in He'll at Art + Practice, Hammer Museum, Los Angeles (2016); Die Hexe at Luxembourg & Dayan Gallery, New York; Devil Town at Gio Marconi, Milan; Le Miroir Vivant at The Museum Boijmans van Beuningen, Rotterdam, Netherlands (2015); Easternsports at the Institute of Contemporary Art, Philadelphia (2014, together with Jayson Musson).
Da Corte's work was also included in the group exhibition Dreamlands: Immersive Cinema and Art, 1905–2016 at the Whitney Museum of American Art, New York. Past group exhibitions include the Louisiana Museum of Modern Art, Humlebæk, Denmark; the 13th Biennale de Lyon, Lyon, France among many others. In 2012, Da Corte was awarded a Pew Fellowship in the Arts from the Pew Center for Arts & Heritage.