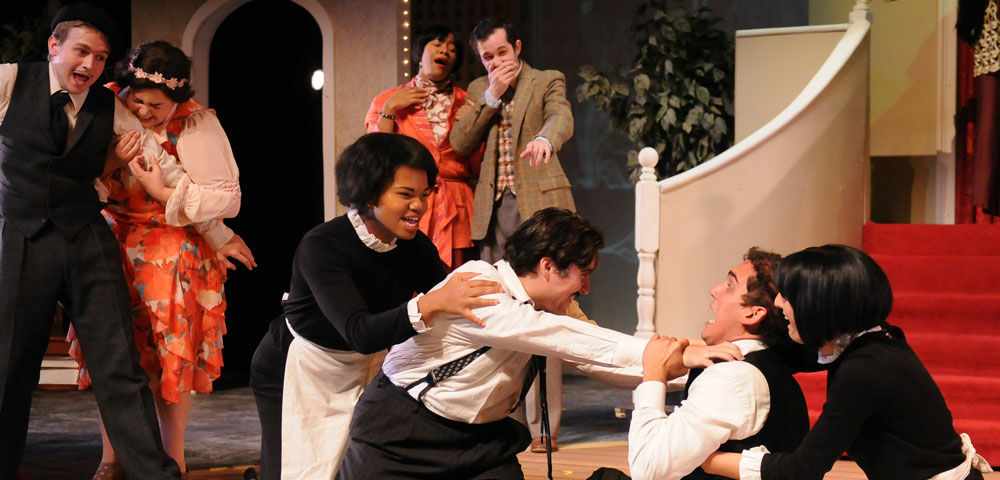 The Acting Concentration equips students with the skills they need for careers in theater, television, or film while enabling them to take advantage of the many opportunities provided by Rutgers–Camden's well-rounded liberal arts experience.
Small class sizes mean students receive lots of personal attention.

A faculty of seasoned professional artists who are active in their fields carefully track the progress of each student.

Core courses provide rigorous training in acting, voice, movement, and script analysis grounded by a background in theater history.

Electives in such areas as directing, playwriting, filmmaking, and design enable students to individually tailor their studies.

Performance opportunities in our fully-supported mainstage and student-directed productions provide hands-on training. Productions range from Shakespearian tragedies to modern classics and musicals.

Facilities include the Walter K. Gordon Theater, a state-of-the-art 650 seat proscenium house renowned for its near-perfect acoustical properties, and the Black Box Studio, a flexible, intimate performance space.

Our proximity to the vibrant Philadelphia and New York theater scenes makes internships highly accessible. 
For information about the Acting concentration, contact Prof. Kenneth Elliott.
Course Requirements
50:965:123      Voice for the Stage (3)

50:965:124      Movement for the Stage (3)

50:965:202      Play Reading and Analysis (3)

50:965:241      Stagecraft (3)

50:965:271      Acting I (3)

50:965:302      Practicum/Crew Call in Technical Theater (BA)


                          *At least three credits required.

50:965:496      Senior Project (BA)


                          *At least one credit required.

50:965:380      History of Theater I (3)

50:965:381      Modern Drama (3)
ACTING CONCENTRATION (21 credits)
The Acting Concentration enables students to hone their craft in classes taught by seasoned theatrical professionals. Performance opportunities abound in the Rutgers–Camden Theater season, which includes three mainstage productions as well as student-directed and student-created work.
50:965:371      Acting II (3)

50:965:372      Acting for Film (3) or 50:965:373 Improvisational Theater (3)

50:965:471      Acting III (3)
Select at least one additional three-credit Literature and History elective, two additional three-credit Theater Practice electives, and one additional three-credit Design and Technology elective. 
LITERATURE AND HISTORY ELECTIVES
50:965:240  The Art of Comedy (3)  

50:965:308  American Musical Theater (3)  

50:965:309  American Theater (3)

50:965:310 Experimental Theater (3)  

50:350:331  Shakespeare I (3)  

50:350:332  Shakespeare II (3)  

50:965:345  Theater and Film in Europe (3)  

50:965:361  Survey of Costume History (3)  
THEATER PRACTICE ELECTIVES  
50:203:201  Musical Theater Dance (3)  

50:203:227  Jazz Dance (3)  

50:965:248  Stage Combat (3)  

50:203:249  Ballet I (3)  

50:965:350  Auditions and the Business of Theater (1)  

50:965:301  Performance (BA)  

50:965:303  Actor Director Workshop (BA)  

50:965:318  Playwriting I (3)  

50:965:319  Playwriting II (3)  

50:965:320  Directing I (3)  

50:965:321  Directing II (3)  

50:965:322  Directing for Film (3)  

50:965:363  Educational/Children's Theater (3)  

50:965:371  Acting II (3)  

50:965:372  Acting for Film (3)  

50:965:373  Improvisational Theater (3)  

50:965:471  Acting III (3)  
DESIGN AND TECHNOLOGY ELECTIVES  
50:965:242  Stagecraft II (3)  

50:965:245  Scenic Painting (3) 

50:965:268  Stage Management (3) 

50:965:270  Stage Makeup (3)  

50:965:302  Practicum/Crew Call in Technical Theater (BA)  

50:965:314  Scenic Design (3)  

50:965:361  Survey of Costume History (3) 

50:965:362  Costume Design (3)  

50:965:268  Stage Management (3)  

50:965:382  Lighting Design (3)