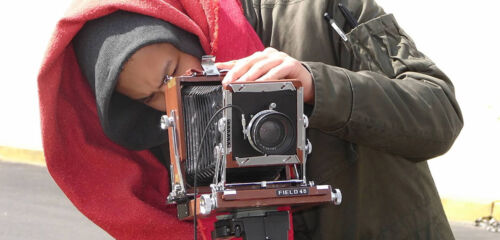 The photography concentration within the studio arts program provides students with visual communications skills that are designed to strengthen the creative, technical, and conceptual abilities of photography students and all visual artists. The program offers a wide range of courses that address both critical analyses of photographic content and context as well as technical craft. Our facilities include a B&W darkroom, state-of-the-art digital labs with current Adobe software, and a studio equipped with strobe and hot lighting.
Fine art and commercial focuses are augmented by interdisciplinary opportunities with other humanities courses in English and History. Photo-based International Studies tours, residencies in the Poconos, and internships, both on and off campus, offer direct experiential learning not found in the studio or classroom.  Alumni of the program have gone on to graduate schools, and have become teachers in higher education, or free-lance photographers; some have opened their own studios and are active in fine arts gallery exhibitions.
For information about the Photography concentration, contact Prof. Allan Espiritu.
B.A. 
Degree Requirements
Core Curriculum (27 credits)
Required for all Art Program concentrations
50:080:102 Visual Fundamentals (3)

50:080:103 Sculpture Foundations (3)

50:080:213 Graphic Design I (3)

50:080:221 Drawing I (3)

50:080:351 Painting I (3)

50:080:279 Computer Animation (3)

50:080:264 Digital Photography (3)

50:082:102 Introduction to Art History II (3)

50:082:354 Contemporary Art (3) or other upper lever Art History course
Photography Concentration (21 credits)
50:080:201 Photography in Social Media (3)

50:080:265 Digital Photography II (3)

50:080:348 Special Topics Photo (3)

50:082:383 History of Photography (3)

50:082:460 Experimental Photography (3)

50:080:XXX Advance Electronic Course (3)

50:080:461 Senior Capstone/Studio and Commercial Photography (3)

50:080:484 Special Studio Project: Undergraduate Research Project (3) (Strongly Recommended)

50:080:492 Photography Internship (3) (Strongly Recommended)

50:080:497 Honors Project in Photography (3) (Strongly Recommended)
STUDENT GALLERY