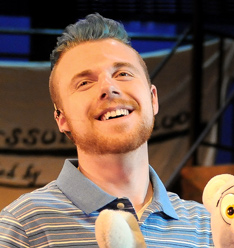 Hunter Smith
Theater (Production)
Camden College of Arts and Sciences
Department of Fine Arts
Class of 2020
Personal Site: rjhuntersmith.wordpress.com
Biography
Hunter Smith is a class of 2020 double major in English and Theater Production. He is from Medford Lakes, New Jersey and originally joined his high school's stage crew in 2011. He eventually became his school's stage manager, which is where he developed his love of creating theater in any way possible. It wasn't, however, until he got to Rutgers University–Camden that he discovered he could make a profession out of his passion.
Since starting school at Rutgers—Camden in the Fall of 2016, Hunter has heavily participated in every mainstage production the school has put on. He has been Assistant Stage-Manager of two shows, Stage Manager of four shows, Assistant-Director of a show and Director of a One Act show, Light Designer for a show, and, most recently, an Actor in Avenue Q (Spring 2018). He is also a consistent staff member of the Walter K. Gordon Theater and the Department of Fine Arts Office throughout the school year. Hunter plans on being involved in every show he possibly can for the rest of his time here at Rutgers University–Camden!
Outside of the theater program, Hunter is part of the Rutgers–Camden Leadership Institute, Honors College, and Civic Scholars Program. He has done volunteer work with local non-profits such as LUCY Outreach, North Camden Lutheran Housing, Ignoble Shakespeare Company, South Jersey Fringe Festival, and, most recently, he started volunteering at the South Camden Theater Company.