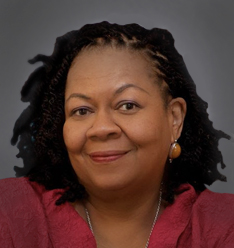 Part-Time Lecturer of Art History
M.S. Drexel University
Biography
Kimberly Camp began her career as a professional artist over 50 years ago. Since then, her paintings and dolls have been shown throughout the US in solo and group exhibitions at the American Craft Museum, Smithsonian Institution, International Sculpture Center, University of Michigan, the Hand Workshop, Sawtooth Center for the Visual Arts, and Manchester Craftsman's Guild. Her work was featured in traveling exhibitions including Spirit of the Cloth: African American Quilters, for the Craftery Gallery; Touch: Beyond the Visual, for the Arlington Art Center, VA; and Uncommon Beauty in Common Objects for the National Afro-American Museum and Cultural Center in Ohio. In 2013, she opened Galerie Marie in Collingswood NJ, which features Camp's paintings and dolls, and work by over 120 artists from around the world.
Camp's artwork is represented in the collections of Anne Wollman, Faith Ringgold, Judith Jamison, the Reader's Digest, Manchester Craftsman's Guild and the J.B. Speed Art Museum. Additionally, she has been featured in Essence, Nouvel Objet, The New York Times, FiberArts, National Geographic World,Tthe Village Voice and The Smithsonian.
She has received numerous awards including two National Endowment for the Arts Fellowships, the Kellogg National Leadership Program Fellowship, Smithsonian International Travel fellowship as Visiting Scholar for Tokyo Gedia University, and the Roger L. Stevens Award for Contributions to the Arts and Culture from Carnegie Mellon University.
Ms. Camp, a native of Camden, NJ, received her Bachelor of Arts degree from the University of Pittsburgh and her Master of Science degree from Drexel University. She pursued a dual career as arts administrator: she served as president and CEO of The Barnes Foundation, was founding director of the Smithsonian Institution Experimental Gallery, and president and CEO of the Charles Wright Museum in Detroit. From 2005-2011, she led the creation of a science, technology and natural history project, the Hanford Reach Interpretive Center, in Washington state. Her work as an artist and administrator puts her ideas about the role art plays in democracy, social equity and diversity into practice. She consults for non-profit organizations on strategic planning, leadership transition and best practices in governance.
Currently, Camp is on the faculty of Drexel University's Arts Administration program and serves as a curator for A New View-Camden public art project.