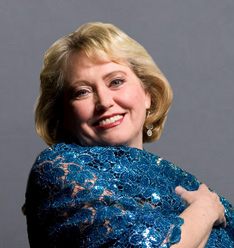 Julianne Baird
Distinguished Professor of Music
Director of Madrigal Ensemble
Ph.D. Stanford University
jbaird@camden.rutgers.edu
juliannebaird.camden.rutgers.edu
(856) 225-6210
Fine Arts Building, Rm. 211
Biography
Dr. Julianne Baird, soprano, with over 130 solo CDs to her credit, has been described as one of the world's most recorded sopranos.   She maintains a busy concert and recording schedule of solo recitals, baroque opera, and oratorio.
In addition to her major roles in a series of acclaimed recordings of Handel and Gluck operatic premieres, recent Vimeo releases include leading roles in  Couperin's Leçons de Tenebrae  (2021) and  Handel's miniature opera– "Aminta e Fillide"(2022)  the Thomas Arne opera "The Judgement of Paris"—all with Brandywine Baroque. (2022).
In December 2021, she toured the Bay Area (Northern California) with the Aulos Ensemble and recorded Mozart Lieder at the Smithsonian in Washington D.C with the director, Kenneth Slowik.   June 2021 saw the release of her most recent CD–Albrecht Mendelssohn "Songs for Lena" –newly discovered Lieder by Felix Mendelssohn's grandson with Eva Mengelkoch.  The CD "Aux Plaisirs, aux Delices Bergeres-"French Court Airs and Dances" with the London-based group Zephyrus and six Telemann secular cantatas with Steven Zohn, are other recent releases with critical acclaim.
Her scholarship includes a Ph.D. from Stanford University and intensive studies with Nikolaus Harnoncourt at the Mozarteum in Austria.  Her book, "Introduction to the Art of Singing," Cambridge University Press, now in its third printing, is used by singers and professional schools internationally.  Dr. Baird Professor-at Large at the University of Western Australia has been a Distinguished Professor at Rutgers University.  In popular demand as a visiting artist, she conducts Master Classes at Yale, Oberlin Conservatory, Juilliard, and Stony Brook.  She has been awarded an Endowed Chair position at the University of Alabama and an Honorary Doctorate in Music from Shenandoah University.
Baird has performed with Christopher Hogwood, John Eliot Gardiner, and Joshua Rifkin throughout Europe, and has also sung as a soloist with the Cleveland and Philadelphia Orchestras and the New York Philharmonic.
The New York Times has hailed her as a 'national artistic treasure' 'well-nigh peerless performer in the repertory of the baroque and praised her musicianship that "engenders singing of extreme expressive' beauty."  The London Times has called her performances of Handel "exquisitely stylish."  She judges major vocal competitions such as NATS Northeast Regional and The Oratorio Society of NYC.