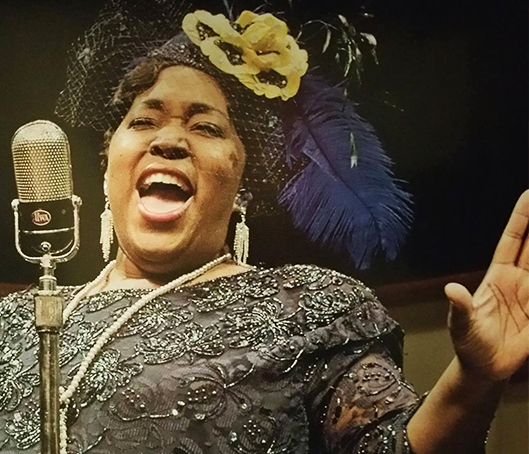 Dionne Fields
Music (Performance)
Camden College of Arts and Sciences
Department of Fine Arts
Class of 2012
Dionne Fields (Contralto) is a proud member of Rutgers University–Camden College of Arts & Sciences, Class of 2012. She received a Bachelor of Arts degree in Music.  After spending many years in the performance realm of sacred music, oratorio and other genres, Dionne has spent recent years broadening her vocal performance scope to include operatic and musical theater repertoire. Having performed the roles of Gerina and Arsace in La Principessa Fedele, Mystery in The Fairy Queen, and the title role of Dido in Purcell's Dido and Aeneus, Dionne has also been busy with the Rutgers–Camden Theater Program.  In 2014, Dionne delighted audiences in the leading role of Mamie in Hand Me Down the Silver Trumpet, a show written for her by Associate Professor of Theater, Dr. Kenneth Elliott.
In October 2016, Dionne wowed audiences as the voice of Audrey II, "The Plant" in the RU-C Theater Program's production of the musical – Little Shop Of Horrors.  While completing Master of Music studies at Boston University, Dionne has also begun teaching voice at Rutgers–Camden. Dionne also is Minister of Music for her church, H.O.P.E. Ministries. When asked about her Rutgers–Camden experience, Dionne said, "I have enjoyed every moment I have spent here at Rutgers–Camden. So much so that, just before graduation, I went to say goodbye to one of my favorite professors and he asked me why I was saying goodbye when I knew perfectly well that I was never leaving! We laughed about it then, but he was right.  One of the best aspects of Rutgers–Camden alumni life is the many opportunities alumni have to return to campus and participate in various activities and groups.  Because of that openness, I still feel very much a part of the Rutgers–Camden Fine Arts scene and I have not stopped singing!"
Fun Fact: Though known for singing, Dionne is also a pretty good violist.